High-Performance Shingle Roofing, The Best Choice for Calgary.
Best Roofing materials can be subjective. However, As a homeowner, you know the importance of a solid roof. It is a shield against the punishing and fickle Calgary weather. One small leak is enough to ruin your week and drain your savings.
Heavy summer rains can be punishing. Seventy-five days of snow per year result in accumulations that can melt quickly when a warm Chinook sweeps in and turns it all to slush. Throw in a little hail for good measure.
When deciding on the best roofing material, there is more to consider than durability. Your home's roof pitch, installation costs, lifespan cost, environmental issues, and looks all factor in.
With 25+ years of roofing experience in Calgary, we've learned a thing or two about what works for our conditions and our clients' budgets. Here are our top recommendations for your home and questions you should be asking any contractor.
The Best Roofing Materials for Residential Homeowners in Calgary
1. Class 4 Impact Resistant Shingles
The hands-down winner for durability, looks and lifetime value is the new kid on the block. Euroshield Roofing, recycled rubber roofing shingles, tick off all the boxes. For a deeper dive, take a look at our in-depth look at class 4 impact resistant shingles.
Durability.
Hailstorms in 2020 did a lot of damage to Calgary roofs. The Class 4 Impact Resistant rating of Euroshield comes with a promise of shedding golf ball sized hail with no lasting damage. It's rated to handle winds of 170 km/h and its rubber base material handles thermal expansion like a champ.
In fact, using these polymer shingles provide so much protection, it can often get you insurance discounts and rebates from local and provincial governments.
Installation & Material Cost.
Euroshield costs $8.00-$11.00 per square foot. A 1,600 sq. ft. ranch home would cost $12,000-$19,000.
Roof Pitch.
The flatter your roof, the more durable it needs to be. Water and snow don't shed off flat roofs as readily as steep roofs. And no shingle roofing material is more durable. Completely flat commercial applications will require specialty roofing, but for most homes in the Calgary area, Euroshield provides ample protection.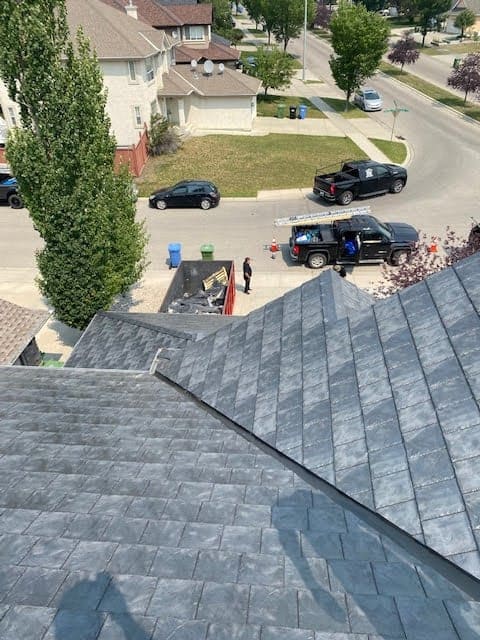 Material Cost.
Class 4 Impact Resistant shingles are on the high-end relative to standard 3-tab shingles, but compare favourably against metal, slate, and cedar shake roofing materials. However, given the promised 50-year lifespan of Euroshield shingles, lifetime costs can push it below standard shingles. Add in possible rebates and insurance discounts and the costs come down even further.
Sustainability.
These shingles take the environmental scourge of used rubber tires and turn them into a durable, attractive roofing product. 70% of the shingles' material is made from tires that would otherwise be thrown into landfills.
Looks.
These shingles have been reimagined to look like cedar shakes and dark tile for a stylish, high-end appearance.
2. Asphalt Shingles
The most widely used and recognizable roofing material is the asphalt-based roofing shingle. Look up, and you'll see them on most homes. Their relatively low price and ease of installation make them a standard option for budget-minded homeowners. This is the most common choice for a residential roofing customers.
Durability.
Asphalt shingles can be rated to last anywhere from 15-30 years, with most needing to be replaced in less than 20. They can take the occasional hailstorm or high wind, but lose their protection quicker than other, more expensive options.
Installation & Material Cost.
This is what makes asphalt shingles so popular. Homeowners on a budget often select this option at $3.50-$5 per square foot. A 1,600 sq. ft. ranch house would be $4,000-$7,000. While upfront costs can be low, lifetime costs approach more expensive options like metal or Euroshield.
You'll still want trained pros to install these, but because of the standard methods involved, it's easy to find contractors without the specialized skills needed to install other types of roofing. It goes up fast and costs less than almost any other roofing material to install.
Roof Pitch.
Asphalt shingles can provide protection at relatively low pitches, but a higher priced variety is needed.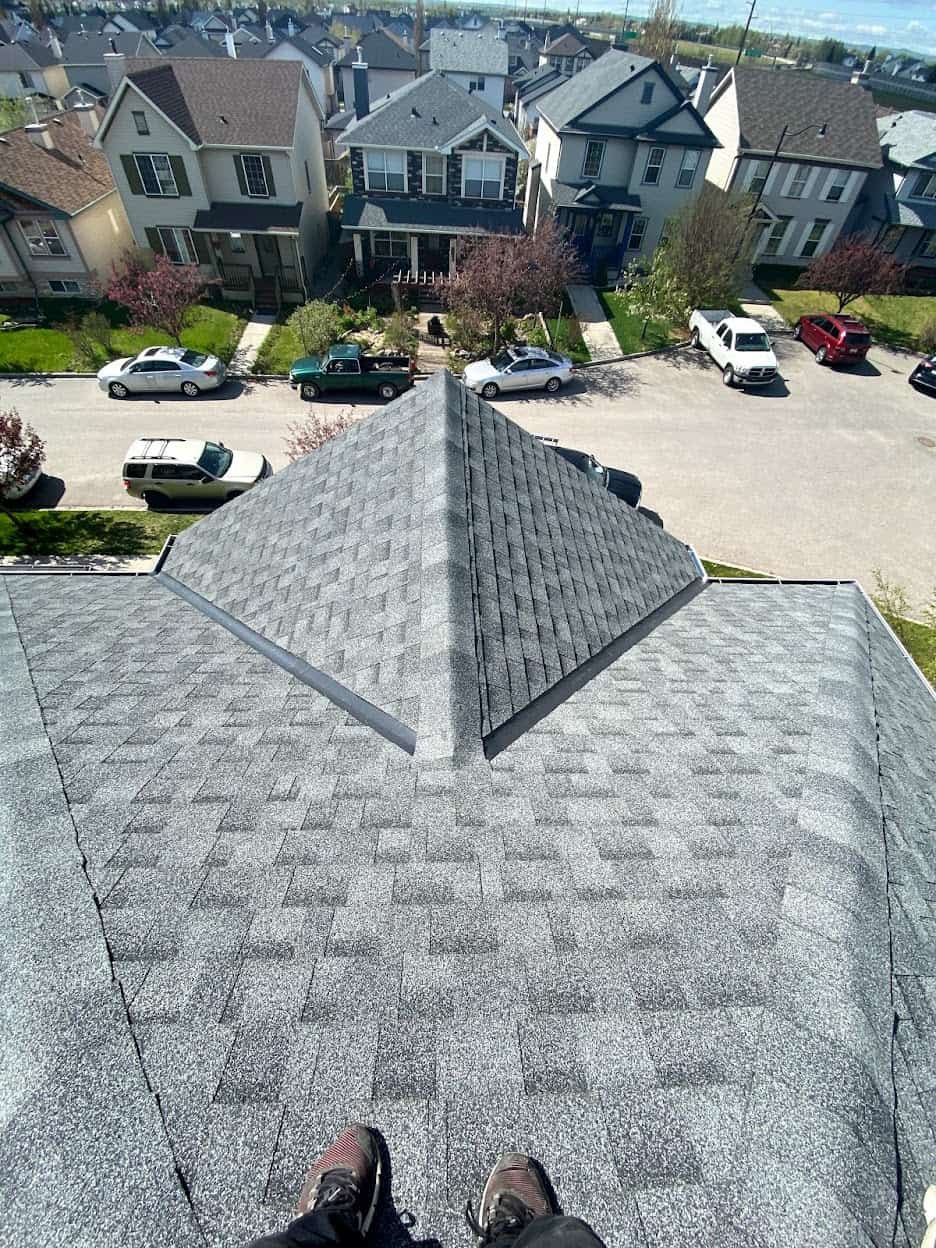 Material Cost.
This is what makes asphalt shingles so popular. Homeowners on a budget often select this option knowing full well that they'll be calling the roofing company again in 15 years. While upfront costs can be low, lifetime costs approach more expensive options like metal or Euroshield.
Sustainability.
The prime component is right there in the name-asphalt. Which is another way to say oil. In other words, these are not the most environmentally friendly option. They are not made from recycled materials, and they go into the landfill when replaced.
Looks.
Asphalt shingles are getting more design attention these days. "Architectural" shingles are much more pleasing and come in a wide array of colours to match your home
3. Other Options: Cedar Shake, Metal, and Slate.
Cedar shakes.
Made from water-resistant wood, cedar shakes offer a natural look with a high level of durability. If the cedar is harvested sustainably, the shakes can be easy on the environment, essentially being carbon-neutral with minimal manufacturing issues. They age gracefully and handle snow and rain well.
Material and installation come in at $6-$10 per square foot. A 1,600 sq. ft. ranch home is anywhere from $6,400 to $15,000 depending on the style and quality of the shakes.
 If you're looking for a warmer look, cedar shakes are a good option. Be sure to hire roofers with experience installing cedar shakes. If improperly installed, their lifespan can be shortened.
Standing seam metal roofs
are durable, but can get permanently damaged from hail. They're a relatively benign environmental choice, as the metal can be recycled. But they don't work as well in low-pitch situations where water doesn't shed quickly.
The material and installation price varies widely depending on the metal. Basic steel can be as cheap as $5 sq. ft. and it gets as high as $20 sq. ft. for copper. A 1,600 sq. ft. ranch costs between $8,000 and $32,000.
Slate roofing
is perhaps the longest lasting and best-looking roofing material out there. Slate is also a completely natural material. Slate is an extremely heavy product that will require a framing inspection before installation.
It's weight and transportation costs combine with the need for specialized labour make it a pricey option. At $10-$16 square foot a 1,600 sq. ft. ranch costs $16,000-$25,000 making it the most expensive option. Roofs with valleys and a steep pitch will raise that number considerably.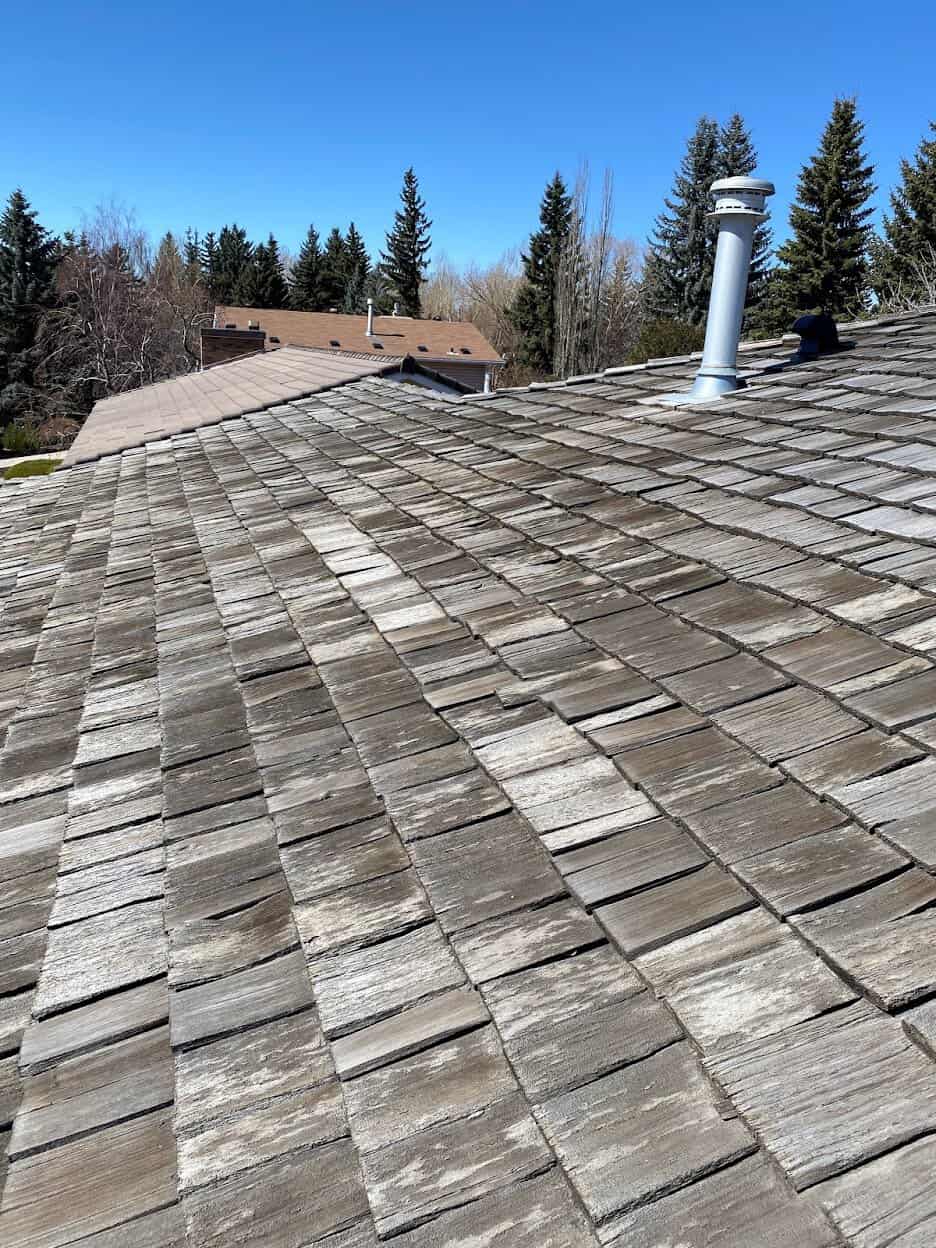 Consult the Pros
Regardless of what you're considering, it makes sense to get a seasoned professional with local experience to talk over your options. A Whalley estimator will measure your roof, calculate its pitch, and give you options for every budget.
Call us at 403-288-8819, and we'll help you tackle your next roofing job. We'll keep you buttoned up against the elements. It's what we do.