Professional Roofing Solutions
Providing Residential and Commercial Roofing Services in Alberta for over 23 Years
The Whalley's Four Seasons Roofing Difference
Quality Roofing Guaranteed
Whalley's Four Seasons Roofing prides itself on delivering quality commercial and residential roofing. As a family-owned business, we strive to ensure that each roofing customer is treated like a member of our family. Our attention to detail makes sure your roof replacement, home renovation or repair last for the long term.
Free Roofing Estimates
We know that choosing a roofing contractor in Calgary can be challenging! We take pride in our reputation as an upfront and honest roofing company. Our 40 years of industry experience means you can count on our roofing estimates to be accurate and complete, with no last-minute surprises.

Fair Pricing Guarantee
We never offer low-ball estimates as a deceptive way to get the job. Our roofing prices factor in the highest quality standards that we offer, and our performance is second to none. Our quality workmanship provides peace of mind that the job was done correctly by one of the best local roofing companies in Calgary.
Our Services
We always guarantee our work, which means we take the time to ensure that you are pleased with every step of your roofing project. We have dealt with many different roofing types in Alberta and know how to get the job done right. Our goal is to meet and exceed every client's expectations. We specialize in flat roofing services, residential roofing services (sloped roof), commercial roofing services and roofing repair services, so whatever your roofing needs are, we have you covered. We also can work with your insurance provider to make sure your insurance claim is handled correctly.
Get Your New Roof in 4 Simple Steps
Getting a new roof can be stressful, but we are here to make the process as seamless and easy as possible every step of the way. With our customer service, you can always be assured that you are benefiting from a family-run business experience that is upfront and honest.
Step Two:
Get a Free Estimate
Step Three:
We Start Roofing
Step Four:
Enjoy Your New Roof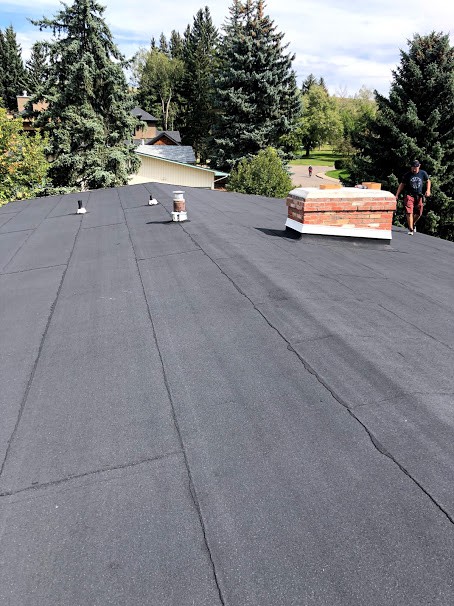 Calgary Roofing Experts | YYC Roofing.
As a Calgary roofing contractor that has been in business in Calgary for over 22 years, we understand the beating our roofs take in our northern climate. We started as a small roofing company servicing varsity but have expanded to being one of the top roofing companies in Calgary. We are now servicing all of Calgary, Okotoks, Chestermere, Airdrie, and Cochrane.
With our expanding knowledge, we understand the different requirements roofs have and problems that can arise in Alberta. We have experience with standard pitched roofing inspections, roof repairs, residential roofing, winter roofing and  commercial roofing projects.
Don't just take our word on how we are one of the best roofing companies in Calgary. Read what our happy customers have to say.